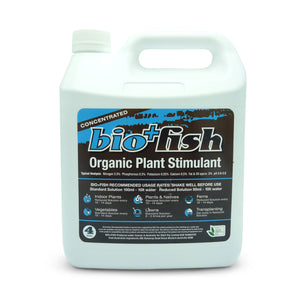 Organic Fish & Microbial Bio-Stimulant - 4 Litres
Bio+fish is a naturally balanced food manufactured using a low temperature natural enzyme process ensuring nutrients & trace elements are retained. Bio+fish is an organic product that can be used in many Agricultural & Horticultural applications including: 
An additive to seedling mixes
Soil conditioning prior to planting
Pasture and crop top dressing
Direct, side spray and overhead foliar applications
PRINCIPAL BENEFITS TO PLANTS, TREES AND VINES
Contains a balanced organic nutrient source, plus trace elements.
Increases absorption capacity to use naturally occurring and applied fertilisers and trace elements.
Improves the activity of plant enzymes and micro-organisms for more rapid growth.
Promotes development of root ball.

 

 Increases carbon content of soil. SUGGESTED APPLICATION RATES
Trees & Vines
15 litres per hectare as a ground application under the drip line prior to bud burst or quickening; followed by a similar application 2 weeks after bud burst.
Thereafter 10 litres per hectare at 21 day intervals through drip lines or foliar spray.
Foliar spraying of fruit is not recommended within 2 - 3 weeks of harvest.
Vegetables
10 litres per hectare at 14 day intervals commencing 2 - 3 weeks after planting, or half rate at 7 day intervals.
For Brassica's, discontinue application 2 weeks before harvest.
Pasture & Turf
20 litres per hectare at 21 day intervals during growth period.
Seedling Mix
Add Bio+fish to raw compost base at the rate of 50 litres per tonne. Turn regularly, and when mature use as normal.
DIRECTIONS FOR USE
When applying through boom spray use 80 to 100 mesh screen on main filter.  50 litres per hectare jet size is preferable to limit blockage problems
Add Bio+fish into the spray tank slowly with tank nearly full and agitating actively.  Blockages can occur if neat product reaches the filter system.  When used with other compounds, dissolve Bio+fish separately as the last ingredient.  Store emulsion containers in shaded position and tighten the caps.  Wash any residue from the outlet of bulk drums and leave to dry.  Direct sunlight will degrade white or natural tanks.
CLEAN UP PROCEDURE
Use or discharge any remaining mixture and purge the tank and sprays with clean water.  DO NOT return any diluted spray mix to the containers holding full strength emulsion.
TYPICAL ANALYSIS
| | | | | | | | |
| --- | --- | --- | --- | --- | --- | --- | --- |
| Nitrogen | 2.1% | Protein | 13.1% | Phosphorus | 1% | Potassium | 0.4% |
| Calcium | 0.45% | Fat & Oil | < 2.5% | pH | 3.6-3.8 | Salt (NaCl) | <0.36% |

DISCLAIMER: Recommended dilution &spread rates suggested by COLF Pty Ltd contained in this document are a guide only. Local soil conditions and previous land use should be taken into consideration. The end user shall take all responsibility for both testing of the product's compatibility with other products and machinery used in the spreading of this product and cleaning of equipment used.