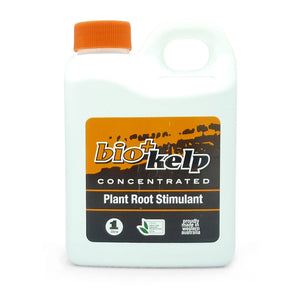 Organic Kelp Microbial Bio-Stimulant - 1 Litre
Bio+kelp is biologically extracted liquified Australian Bull Kelp (Durvillea potatorum) designed to deliver optimum benefits by increasing your plants' chlorophyll production.  Bio+kelp stimulates natural development & growth.  It functions as a catalyst to let your plants use the sun's energy more effectively, thereby promoting stronger healthier growth.  Bio+kelp creates an extended root system giving your plants greater access to nutrients & water in the soil thus contributing to long term health.  Bio+kelp stimulates beneficial soil microbial activity which leads to improving your plants natural resistance to stresses.  It creates a "biological barrier" between your plants & pathogens.  Bio+kelp also contains important bio-growth stimulants, which have a significant effect on seed germination, root development and general growth.  Bio+kelp can be an effective fertiliser supplement to help restore soil condition. 
PRINCIPAL BENEFITS TO PLANTS, TREES AND VINES
Increases flowering, fruit production & quality of produce.
Increases protection against transplant shock.
Builds brix (sugar) levels.

 

High brix levels have shown higher resistance to pests and diseases.
Increases root growth improving resistance to stress.
Feeds soil microbiology. 
SUGGESTED APPLICATION RATES
Seed Treatments
3 litres of Bio+kelp per tonne of seed
Foliar & Irrigation
2 – 3 litres of Bio+kelp per hectare
 DIRECTIONS FOR USE
25:1 to 50:1 are acceptable dilution rates.  Bio+kelp can be used with most other compounds and organic liquid fertilisers.  It is best applied as a foliar spray or soil drench.  Spraying should not occur is rain is expected within 8 hours or immediately before overhead watering.
CLEAN UP PROCEDURE
Use or discharge any remaining mixture and purge the tank and sprays with clean water.  DO NOT return any diluted spray mix to the containers holding full strength emulsion.
TYPICAL ANALYSIS
Note: Trace Elements and Vitamins screened to 100 microns
               Nitrogen      610ppm

         Magnesium      1500ppm

Phosphorus

          180ppm

Potassium

2000ppm

                Calcium       1900ppm

                  Sulphur      1600ppm

Iron

12ppm

Zinc

3.1ppm

                  Copper      0.2ppm

                              pH         3.5 – 5.1

Boron

           13ppm

Molybdenum

5ppm

             Cobalt      0.5ppm

          Sodium       0.57%

      Chloride     0.48%

Tri-indole Acetic Acid

150mcg/L

           Cytokinins      25mcg/L

Plus 17 Amino Acid plant growth hormones

 
DISCLAIMER: Recommended dilution &spread rates suggested by COLF Pty Ltd contained in this document are a guide only. Local soil conditions and previous land use should be taken into consideration. The end user shall take all responsibility for both testing of the product's compatibility with other products and machinery used in the spreading of this product and cleaning of equipment used.